Jeep. The greatest vehicle on the planet.
I love my Jeep.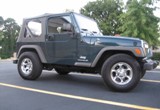 When I first got my 2005 Jeep Wrangler, it was totally stock but was a blast to drive. There was really nothing like taking the top off and crusing around town. The soft top was pretty easy to put up and down, but after a summer of driving with the top off, I wanted to remove the doors as well. I managed to get some mirror movers that let me mount the mirrors of my Jeep on the body, so that I could take the doors off. There's really nothing like driving a wrangler with no top or doors.
After having my Jeep for about six months I started reading more and more about offroading. I read somewhere that only 20% of people that own Jeeps ever put them in four wheel drive! I decided that was not going to be me, and went in search of a local four wheel club to go offroading with. I ended up going offroad with a club from
meetup.com
and had the greatest time ever! 4 wheeling is more fun that you can imagine.
I was very nervous on my first offroading trip, but that's normal. You don't need to be nervous as long as you are careful, and go slowly, not trying to show off, or tackle huge rocks. As far as what gear you'll need, I'm not a big fan of hardtops for offroading, but you can offroad with the top off if you have a
Jeep Wrangler Soft Top
. You'll also want a full sized spare, basic tools, and some lunch.
Posted by Terry


2008.01.16
Table of Contents
Jeep Tech Tips
These are some of the upgrades and modifications that I've done to my Jeep Wrangler, including adding a Budget Boost lift kit
Offroad Checklist
If you are planning a 4x4 trip, look at my offroad trip checklist for the items that you should pack. It may not keep you from breaking down, but at least you'll be able to limp home.
Movies
Take a look at some great Jeep and 4x4 videos
Resources
If you haven't found what you need on this website, try one of these other ones.
About me
If you'd like to know more about the author of this website, and my Jeep TJ, look here
Contact
For information about advertising on this site, or to just drop me a line, click here