technical tips and tricks to help your Jeep
Installing a suspension lift in your Jeep Wrangler
One of the best upgrades that I did on my Jeep Wrangler TJ was to install a new suspension lift. There are two types of lifts that you can do to a newer Jeep, a body lift, or a suspension lift.
The body lift does pretty much what the title suggests, and lifts the body of the Jeep. You simply insert spacers between the body of your Jeep, and the suspension system. The advantage to this type of lift is that your ride handling will not change, since the shocks / coils, and all suspension components are left unchanged. Also, since the body is lifted higher, you'll be able to mount larger tires. The disadvantage to a body lift is that your Jeep won't be able to go over any larger rocks / obsticles, since the axles / engine / entire suspension system will still be at stock height.
There are several flavors of suspension lifts avaliable for Jeep vehicles. A suspension lift will give your Jeep a longer suspension system, which means that the entire vehicle will be lifted in the air higher. Once the Jeep is standing taller, you'll be able to mount larger tires (I have a 2 inch lift, and run 31 inch tires). Another advantage of a suspension lift is that you usually replace components of your Jeep, so you will swap out your worn shocks and coils with fresh after market equipment. Some of the disadvantages of a suspension lift are that they are more expensive (from $220 to $2000+), they are more difficult to install, and can often change the ride and handling of your Jeep.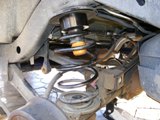 I wanted a small lift for my 2005 TJ, so I chose the 2" Rubicon Express coil spacer lift (also known as the budget boost). This is a rubber spacer that sits on top of your coil (see photo). It took about 10 hours for me to install the entire kit using normal hand tools (I'm of average mechanical experiance, and had never done anything with coil suspensions). The kit came with new shocks as well, and this actually gave me a much better ride than I had previously. My Jeep had about 60,000 miles, and the stock shocks were worn out, so the new lift gave me a softer ride.
Overall I'm very happy with the results and would recommend this kit to anyone in need of a slight lift.
Trying to give your Wrangler some lift? ExtremeTerrain has
Jeep Wrangler Lift Kits
Table of Contents
Jeep Tech Tips
These are some of the upgrades and modifications that I've done to my Jeep Wrangler, including adding a Budget Boost lift kit
Offroad Checklist
If you are planning a 4x4 trip, look at my offroad trip checklist for the items that you should pack. It may not keep you from breaking down, but at least you'll be able to limp home.
Movies
Take a look at some great Jeep and 4x4 videos
Resources
If you haven't found what you need on this website, try one of these other ones.
About me
If you'd like to know more about the author of this website, and my Jeep TJ, look here
Contact
For information about advertising on this site, or to just drop me a line, click here